Information Links
---
Directories
Find planning consultants and lawyers in our guides, including detailed breakdowns of the services offered by each.
The Planning Consultancy Services Guide 2016/17
Planning Consultancy Services 2016/17 helps guide public, private and third sector participants through the plethora of sources of advice available from large and small planning advisers. The directory has developed into the established reference guide to this sector of the profession since it was first published in 2004. Download the guide here.
The Guide To Planning Lawyers 2015-16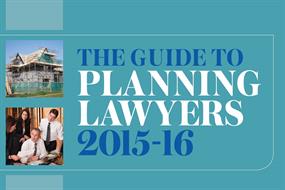 Supplement editor Bryan Johnston introduces the 2015-16 Guide to Planning Lawyers.

Clients need careful guidance on timing and selection to get the most out of barristers' involvement in planning matters. Bryan Johnston reports.

Planning's exclusive survey reveals which barristers are most admired by their fellow planning lawyers. Colin Marrs looks at how their work is changing.

Pinsent Masons has topped the Planning Law Survey rankings of the most respected planning law firms for the second year running.